XMM-Newton Users Handbook
---

Next:
3.3.7.2 EPIC internal `quiescent' background
Up:
3.3.7 EPIC background
Previous:
3.3.7 EPIC background

3.3.7.1 EPIC external `flaring' background
This component is produced by protons with energies less than a few 100 keV which are funnelled towards the detectors by the X-ray mirrors. In Fig. 32 we show an image of the MOS2 detector during an observation which was badly affected by soft proton flares. The intensity of the background within the field of view is much larger than outside because of the soft proton component.
In Fig. 33 we show the background light-curve for the MOS1 unit for another observation (one of the Lockman Hole observations in 2000) where rapid and strong variability is clearly present.
Figure 33:
Light curve from a MOS1 observation badly affected by soft proton flares. During the first part of the observation the background is constant. The second half, however, is heavily affected by a proton flare.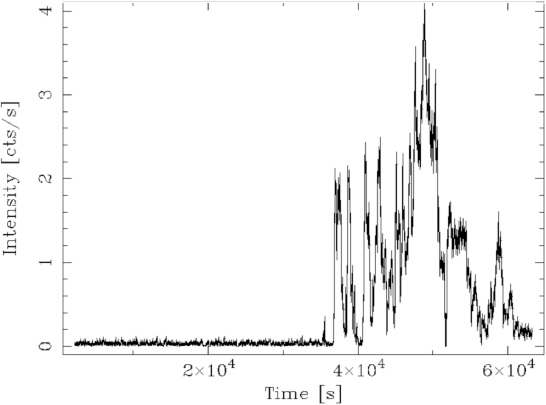 While the MOS1 and MOS2 cameras show almost identical light-curves the pn camera can yield substantially different results, in the sense that some flares appear to be much more intense in the pn than in the MOS cameras.
The spectra of soft proton flares are variable and no clear correlation is found between intensity and spectral shape. The current understanding is that soft protons are most likely organised in clouds populating the Earth's magneto-sphere. The number of such clouds encountered by XMM-Newton in its orbit depends upon many factors, such as the altitude of the satellite, its position with respect to the magneto-sphere, and the amount of solar activity.
Plots showing the radiation levels reported by the spacecraft Radiation Monitor (§ 3.6.1) in quasi real time on a range of time scales spanning the preceding 48 hours together with an archive of daily plots are available from the Live Radiation Monitor web page.
---


Next: 3.3.7.2 EPIC internal `quiescent' background Up: 3.3.7 EPIC background Previous: 3.3.7 EPIC background European Space Agency - XMM-Newton Science Operations Centre