XMM-Newton Users Handbook
---

Next:
3.2.2.2 Off-axis effective area
Up:
3.2.2 X-ray effective area
Previous:
3.2.2 X-ray effective area

3.2.2.1 On-axis effective area
The most important information to XMM-Newton users is the mirror effective area, folded through the response of the different focal instruments. These are shown in Figs. 11 and 12. The effective areas have been extracted from the ready-made EPIC response matrices (full-frame mode, thin filter) and from response matrices created with the SAS task rgsrmfgen in case of the RGS's. Being the product of the effective area of the X-ray telescopes and the quantum efficiency of the detectors (
), they correspond to the open filter positions (cf. Figs. 29, 30 and 31 for effective area plots of the EPIC cameras in case of other filter positions).
One can see that the XMM-Newton mirrors are most efficient in the energy range from 0.1 to 10 keV, with a maximum at about 1.5 keV and a pronounced edge near 2 keV (the Au M edge). The effective areas of the two MOS cameras are lower than that of the pn, because only part of the incoming radiation falls onto these detectors, which are partially obscured by the RGAs (Fig. 3).
Figure 12:
The net effective area of all XMM-Newton X-ray telescopes, EPIC and RGS (logarithmic scale).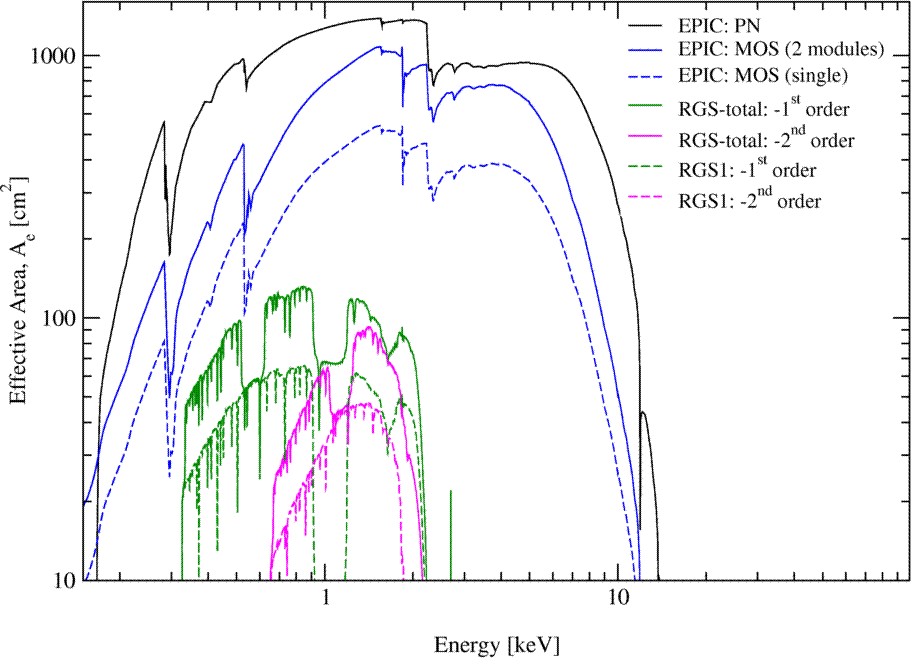 ---


Next: 3.2.2.2 Off-axis effective area Up: 3.2.2 X-ray effective area Previous: 3.2.2 X-ray effective area European Space Agency - XMM-Newton Science Operations Centre